For many families, camping is a summertime tradition. When thinking about what to pack on a camping trip, the first things that come to mind are tents, sleeping bags, fishing poles, and of course, cooking supplies. But what camping cooking equipment are must-haves on your next trip?

When it comes to cooking during a camping trip, you will want equipment that can be used to cook over a flame. These three pieces of Lodge cast iron cooking equipment are necessities for a great camping trip.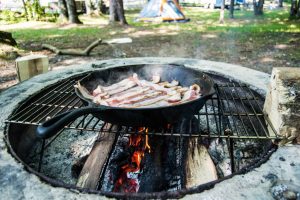 Whether you're cooking freshly caught fish or searing some steaks that you packed for the trip, the Lodge Cast Iron Skillet is a must-have. From breakfast to dessert, a cast iron skillet will have you eating good on your next camping trip. To use this skillet on a campfire, you will need to find four flat rocks and place them in the fire, or find a fire ring with a grill grate. Then, once the fire is burning hot, you can place the skillet on top of the rocks. These rocks will act as nature's cooktop. Don't forget to bring your oven mitt!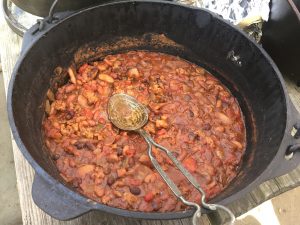 Bring along the Lodge Dutch Oven on your next camping trip to add some variety to your camping meals. While traditionally great for stews or meats, the cast iron Dutch Oven can also be used for baking, broiling, braising, frying,  and so much more. The Dutch Oven can be used to cook in two different ways. You can hang it over the campfire to cook slowly over low heat, or place it directly on the hot coals for a higher cooking temperature. If cooking directly on the coals, be sure to pack a sturdy metal hook to remove it from the fire.
Instead of dragging that big charcoal or gas grill on your camping trip, grab the Lodge Cast Iron Grill and Griddle. With the ability to be used on a traditional cooktop, grill and an open flame, this versatile piece of cooking equipment will be useful at home as well as on a camping trip. Whip up some eggs and bacon or fire up some burgers with the Lodge Reversible Grill and Griddle on your next camping trip.